Toray Medical opened a new showroom after moving its head office in June 2014.
The design theme of this showroom is "Hollow Filament" used in hemodialysis machines.
The showroom is designed not only to showcase our products, but also to let medical professionals touch and feel the actual machines. Its practical layout also makes the showroom a versatile space that can be used for business negotiations, presentations, seminars, etc.
(Note) This showroom is intended for medical professionals only, and closed to general customers.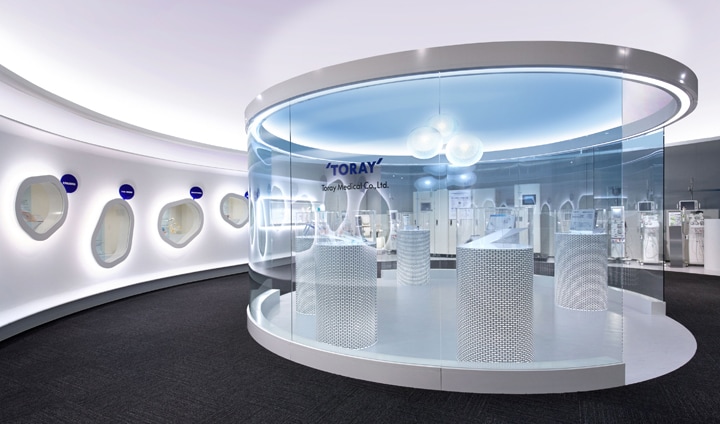 This showroom received the "Display Industry Grand Prize Award (Minister of Economy, Trade and Industry Award)," which is the highest honor given at the "34th Display Industry Awards (2015)."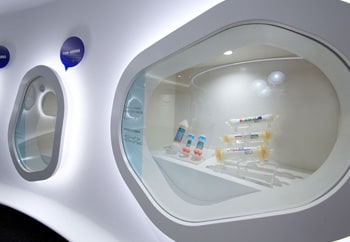 Product display windows
The product display windows provided in the hallway walls are randomly shaped and positioned, to recreate the blood components suspended in blood stream.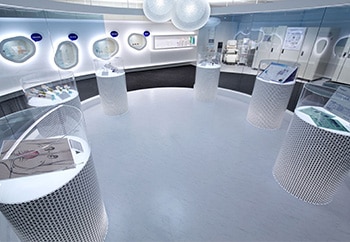 Central display area
At the center of the showroom, new products are displayed in a manner allowing for close examination. The concentric shapes simulate hollow filaments used in our dialyzers.
* Display Design Awards:
A competition on displays and related designs organized by the Nippon Display Federation and supported by the Ministry of Economy, Trade and Industry and Nikkei Shimbun, with the aim of promoting and creating greater social interest in the display industry, and helping improve the quality of life and cultural standard. Past recipients include "Tokyo Soramachi" and Planetarium "Tenku" in Tokyo Skytree Town, full-scale giant Gundam statue in Odaiba, Tokyo, and other entries that created a lot of buzz and wide interest.